LOMA Help
Letter of Map Amendment
We help homeowners get removed from the FEMA high-risk flood zone every day.
FEMA has the monumental task of Mapping and overseeing the entire United States in regard to flood zone issues, so mistakes can be made.
Our service works to correct FEMA flood mapping errors in order to remove mandatory flood insurance requirements for individual homeowners.
Your lender does not have the authority to remove the flood insurance requirement for a property in a FEMA high-risk flood zone based on an elevation certificate alone.
---
Requesting a map amendment from FEMA can be difficult and time consuming. Experienced Mapping Analysts can do the following work for you:
Review the property and verify the current FEMA flood zone.
Obtain and compile all the public research required by FEMA for the dispute.
Submit all available information to FEMA for review.
Provide FEMA any supplemental public information required to complete the review of the application.
Send you the completed LOMA document removing the structure from the FEMA high-risk flood zone.
"You've made my day, …Year. This is the best news!! THANK YOU SO MUCH." -Ann in Massachusetts
read more
Elevation Certificate

Free Review

An Elevation Certificate details a structure's elevation. This certificate verifies the elevation of the lowest floor of a house relative to the ground. It's especially important if your house/building is in a FEMA high-risk flood zone.

If you find that the Lowest Adjacent Grade (LAG) of the structure is above the FEMA Base Flood Elevation (BFE), a Letter of Map Amendment (LOMA) of removal is possible. This will drop the mandatory flood insurance requirement, and if the homeowner decides to have flood insurance, it's available at a heavily reduced price.
How to get an Elevation Certificate
If you are looking for an elevation certificate, check with your local government for any elevation information or certificate on file. You may have one in your closing documents. If not, check with the local building department to see if there is one in your permit file or contact the builder that sold the property. If nothing is available, you must contract a state-licensed surveyor to complete the Elevation Certificate. The price of an elevation certificate varies greatly by state. We recommend calling around to find an average price in the area…hopefully, the homeowner can find a good deal.
What should I do if I have an Elevation Certificate?
You can email us a copy for a Free Elevation Certificate Review. We will study the elevations and discuss your options. Save time and money by working with an experienced FEMA Map Specialist.
Simply email it to [email protected]
Does an Elevation Certificate expire?
No- even an older elevation certificate has valuable information. While the FEMA Base Flood Elevation (BFE), showing the high-risk flood zone, may change over time, the Lowest Adjacent Grade (LAG) of the house/structure does not change.  We can still compare the LAG to the current FEMA BFE.
---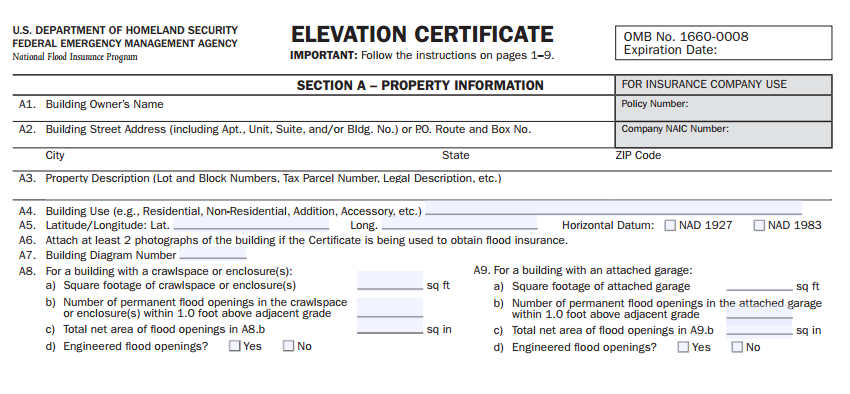 read more